Welcome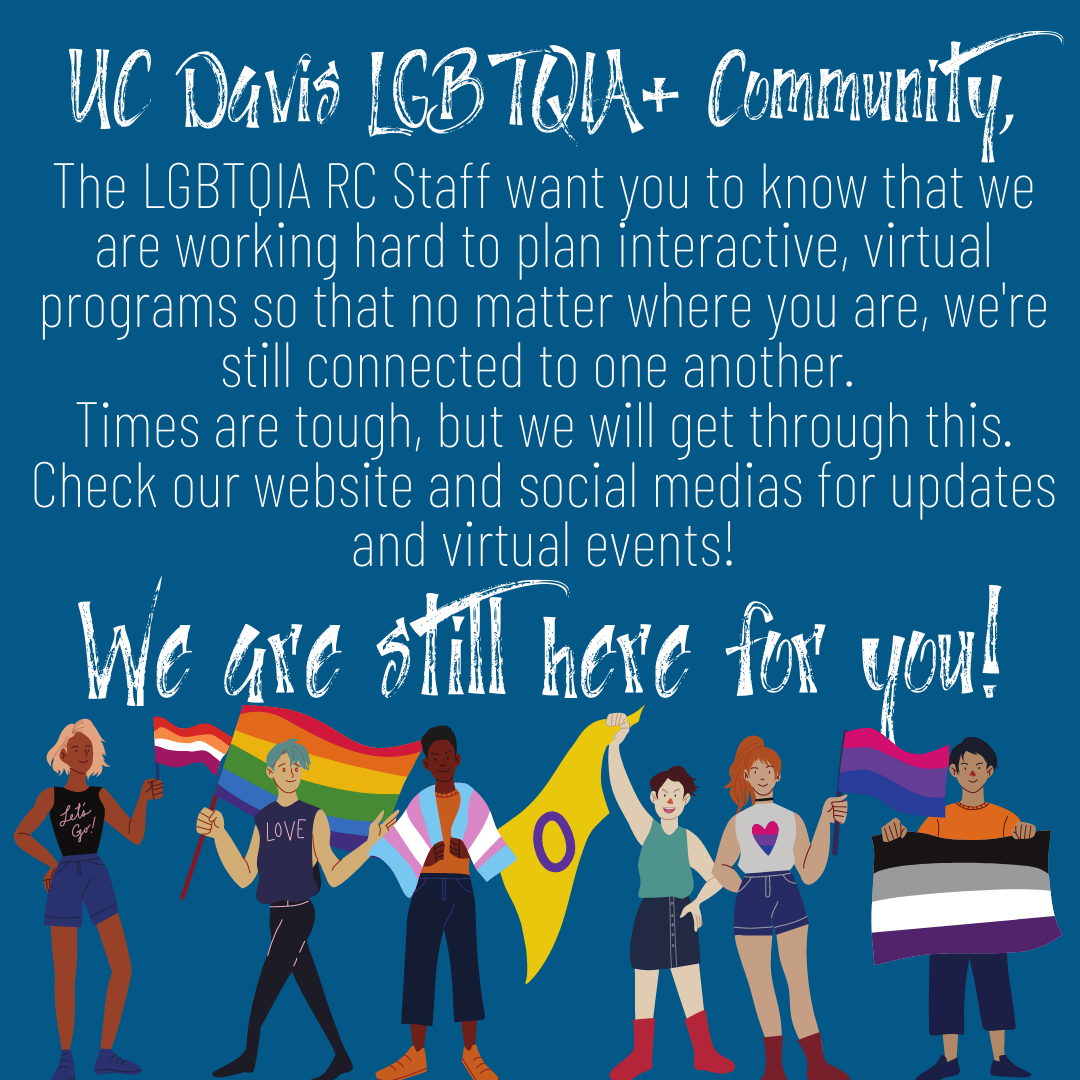 Though the Center is not physically open, we are still here for you! We will be planning virtual and social media-based events and activities to build community even while we are not physically together. You can reach out to us at any time through our contact page where you can find the emails of all our qualified and helpful staff, including our amazing community counselor, Maia! We will be keeping you all as updated as possible through our social medias and website, but please feel free to reach out with any further questions.
The LGBTQIA RC has created an online, public Google Calendar so it is easy to find all of our upcoming programs in one place! We'll be adding to this calendar as we go, so feel free to check on it every now and again for exciting, new program info! We'll continue to share program details via social media, but this calendar is perfect for those who may not utilize Facebook or Instagram. Visit our calendar here!
The purpose of the Lesbian, Gay, Bisexual, Transgender, Queer, Intersex, Asexual Resource Center (LGBTQIA Resource Center) is to provide an open, safe, inclusive space and community. The LGBTQIA Resource Center promotes education as well as space for self-exploration about all sexes, genders and sexualities and their intersections with other identities.
Our vision for the LGBTQIA Resource Center is a space where students, staff, faculty and community members from all sexes, gender identities, gender expressions, sexualities and asexualities are welcomed and celebrated. We envision a space that is filled with the sounds of laughter, music and conversation. An environment that contains challenge and difficult conversations, which push us to grow. An environment that develops pride where there is a history of shame, empowerment where there is a history of oppression, healing where there has been a history of trauma, and joy where there is a history of sorrow.