Welcome and a message to our community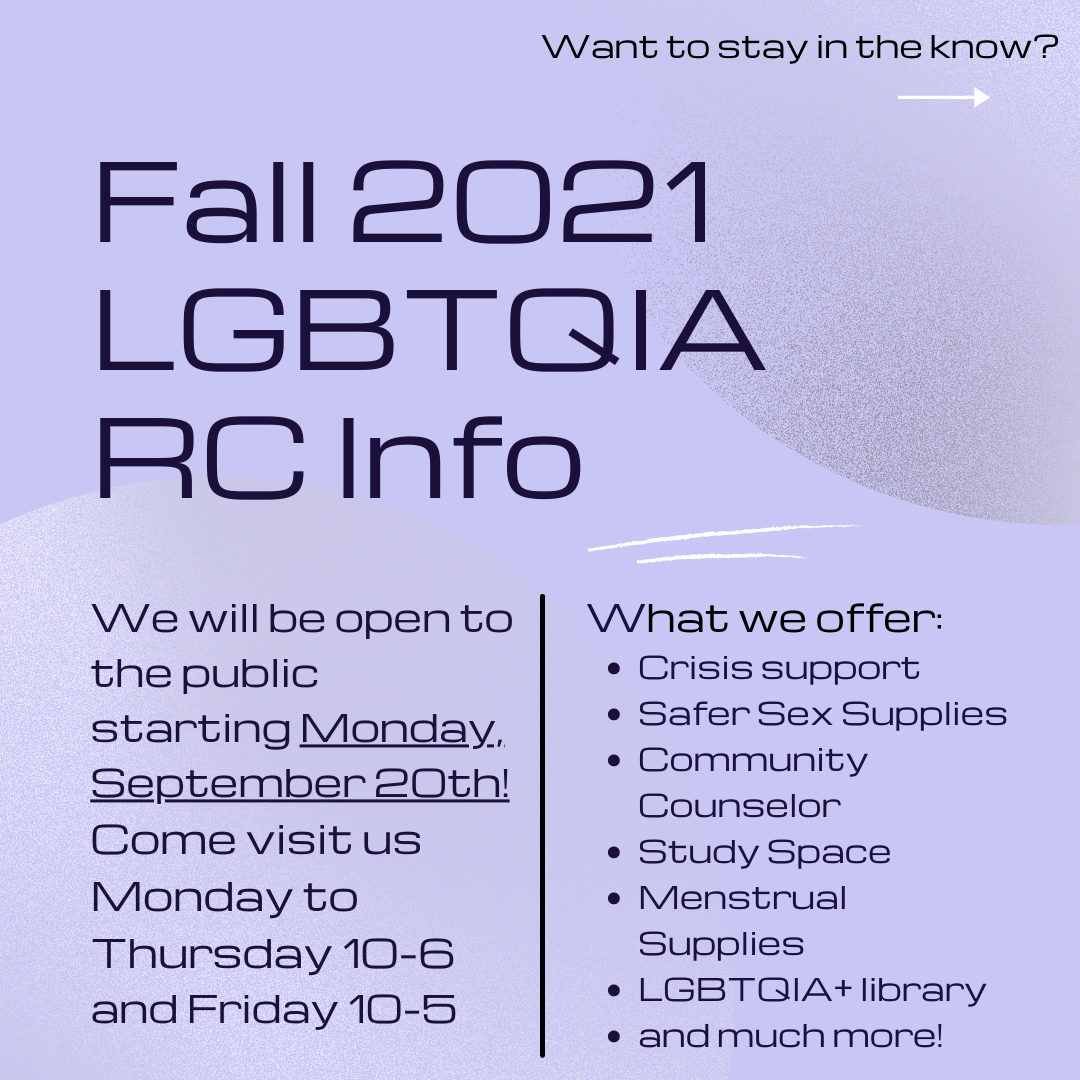 The LGBTQIA RC will begin offering in-person services during fall quarter on Monday, September 20th. 
We will be resuming our pre-COVID hours and services, so feel free to visit us Monday-Thursday 10-6 and Friday 10-5. 
For questions, you can reach out to us at any time through our contact page where you can find the emails of all our qualified and helpful staff, including our amazing community counselor, Maia! We will be keeping you all as updated as possible through our social medias and website, but please feel free to reach out with any further questions.
Follow us on Instagram!
Follow us on Facebook!
The LGBTQIA RC has created an online, public Google Calendar so it is easy to find all of our upcoming programs in one place! We'll be adding to this calendar as we go, so feel free to check on it every now and again for exciting, new program info! We'll continue to share program details via social media, but this calendar is perfect for those who may not utilize Facebook or Instagram. Visit our calendar here!
---
As some of you may be aware, Monae Roberts (they/she) has left their position as the Director of the LGBTQIA Resource Center. Monae began working at UC Davis in 2016 as a Program Coordinator in the Cross Cultural Center and moved into the role of Assistant Director of the LGBTQIA RC the following year. Much of their efforts have been focused on facilitating workshops for the campus community in order to raise awareness about systems of oppression and advocating for LGBTQIA students and staff within the university, most notably Co-chairing the Lived-Name & Gender Marker Task Force/Implementation Committee. Monae has fought for students tirelessly in their time here at UC Davis, but it is time for them to move onward to the next part of their journey.
During this transition, Crystal Knight (they/she) will serve as the Interim Director of the LGBTQIA Resource Center as we search for the permanent Director. Crystal is an activist and educator that fights for intersectional queer and trans liberation. Since January 2019, Crystal has served the UC Davis LGBTQIA+ community in multiple roles, including Student Services Coordinator and Assistant Director; all of which have centered advocacy, student skill-building, programming, campus collaboration, and connecting the greater LGBTQIA+ community to on-campus and local resources. Prior to their work at UC Davis, they served as a Social Justice and Community Co-Curricular Programs Coordinator at UC Santa Cruz. During their educational journey, they have earned a Master's Degree in Higher Education Leadership from the University of San Diego, and a Bachelor's Degree in Psychology from UC Santa Cruz. She enjoys hiking in the greater Bay Area, dancing, and spending time with her dog Blu and her cats Oatmeal and Churro. Crystal can be reached via email at cdknight@ucdavis.edu.