The LGBTQIA Resource Center is excited to coordinate programs specifically for graduate students. Stay tuned for upcoming programs organized and led by our graduate student researcher.
Newsletter: 
For upcoming events relevant to the LGBTQIA Grad Community and Allies check out our new graduate student listserv! ( https://lists.ucdavis.edu/sympa/subscribe/lgbtgrads ) By following this listserv you'll get regular newsletters about LGBTQIA community events and more, specifically tailored for graduate students!
For any questions about the listserv, please contact Kait Murray at kamurray@ucdavis.edu
Current Events:
Free Grad Yoga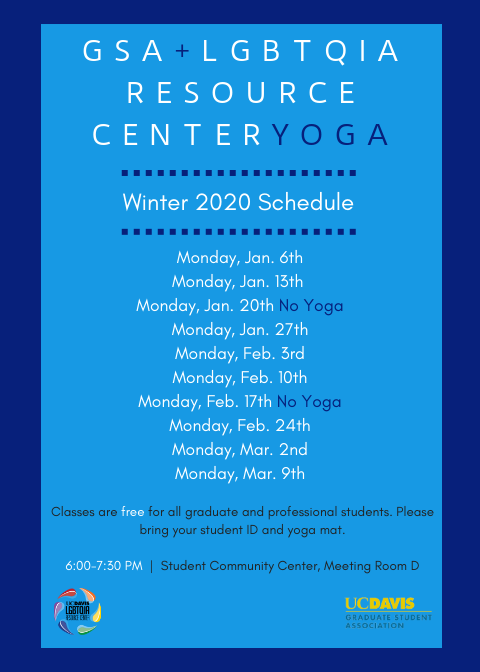 Interested in cultivating your balance, flexibility, strength and endurance? Take a break from your work and join us for a free yoga class. All levels welcome! Please remember to bring your own mat!
Please contact Timothy Walker from the Graduate Student Association at tcwalker@ucdavis.edu for more information.
Annual Queer Feminist Trans* Research Cluster Symposium
Please go to the Queer Feminist Trans* Research Cluster page for more information about the cluster and the symposium: